ARTHUR BRYANT'S
from Best BBQ in Kansas City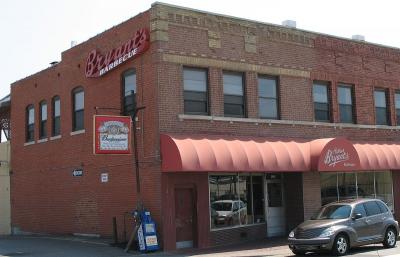 The restaurant can trace its descent from Henry Perry, the "father of Kansas City barbecue", who in 1908 began serving smoked meats to workers in the Garment District in Downtown Kansas City from an alley stand. Perry moved to the 18th Street and Vine neighborhood where he sold barbecue for 25 cents a slab from a trolley barn at 19th and Highland.
Charlie Bryant worked within the restaurant and was soon joined by his brother Arthur Bryant. In 1940 when Perry died, Charlie took over the restaurant. Arthur in turn was to take it over.
The restaurant was located for many years at 18th and Euclid Streets in the inner city neighborhood of 18th and Vine. Bryant moved the business to its present location, 1727 Brooklyn, in 1958. In the 1950s and through the early 1970s, it was visited by fans and players visiting Municipal Stadium, home to the Kansas City Athletics (1955–67), Kansas City Chiefs (1963–71) and Kansas City Royals (1969–72). The stadium was located five blocks south of the restaurant before being razed in 1976.