Papa Roach
from Best Modern Rock Bands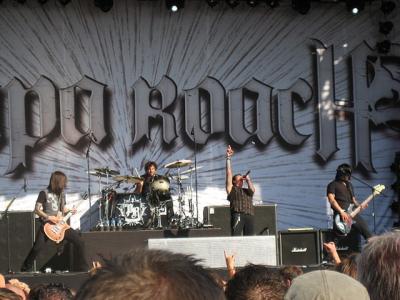 Papa Roach is one of the best modern rock bands to prove that you need only a little bit of talent, a dream and tons of hard work to become stars. Starting off as a chat about the music between people who barely knew each other, the band became a symbol of rock music for millions of fans. Guys were literally living on the stage, trying to perform anywhere they could, from schools to pubs and were slowly accepted by the younger community as the local rock stars. Jacoby and his crew were releasing demos and EPs independently, which had quite a response from the community, selling over 5,000 copies and even bigger potential, which the sound record companies soon acknowledged.
Papa Roach's first big-label release, Infest, was a boom in the industry and it skyrocketed the team to the peak. The band was touring in the UK later that year, so it is easy to see how big of a leap this was. The album included famous Last Resort and other popular songs which made Warner Bros regret their decision of rejecting young guys from Vacaville.
The popularity never stopped dropping ever since. Tours with Limp Bizkit, main stage of the Ozzfest and many more prominent achievements were just a fraction of what the band was about to get next. Each next album sold crazily, each song was praised by the supporters.
This is how we know Papa Roach today - a band on a peak of popularity, with a distinct sound, lyrics, vocals and hits that never go old. What is your opinion about these Vacaville stars? Do you listen to their every song or just pick the one that has the most hype? Both picks are justified, so let us know what you think!