Busta Rhymes
from Fastest Rappers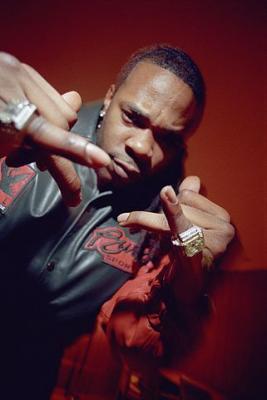 Busta Rhymes, or Travis George Smith Jr., is a man of East Side, being born in Brooklyn. Some people put him on a position of the fastest rapper of all time for his skills of speed-rhyming. The man himself is active since 1989 and still doing his best to stay in the industry and make the fans happy with new tracks.
At the dawn of his career, Smith starts a Leaders of the New School hip-hop group and which becomes known after performing before Public Enemy and 3 years after that, Busta Rhymes starts appearing alongside other popular rappers and his name became more and more known among the community, bringing the first signs of a real fame that was about to fall on his head. Catchy songs, top-notch rhymes (Smith's stage name reflects that fully) and rhythmic beat started to be a particular highlight of his music career. He releases his debut solo album The Coming.
After that, Busta Rhymes releases a few more of his albums, changes a studio and starts working on bigger projects. His album The Big Bang became Busta's first #1 album, which sold more than 200,000 copies worldwide. In 2007 song called "We Made It" comes out, featuring Linkin Park.
Busta Rhymes is now a highly wanted artist, featuring in many mixtapes and shows, like The Tonight Show starring Jimmy Fallon.
What is your attitude towards Busta Rhymes? Do his rhymes make you nod in approval or you think that the industry has much better guys? Express your opinion in the comments below and you will be heard.