Tech N9ne
from Fastest Rappers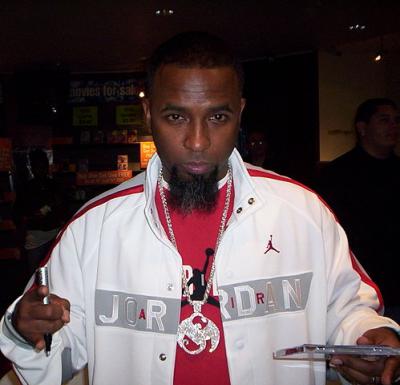 Tech N9ne, or Aaron Dontez Yates, is a rapper from Kansas City, famous for his lyrics, beats and rap speed. His track Midwest Choppers 2 truly deserves a title of a super fast rapper and earns a lot of respect. First album came in 1999 and there was no stoppage of quality content coming our way year after year.
Yates never met his father and lost his mother due to epilepsy, which had a serious impact on rapper's life and later on his music. He started rapping early, memorizing the spelling of his name by rapping the letters. His passion for rap and hip-hop would never fade away and in 1991 he starts his path towards glory. After being a part of various rap gangs he and his business partner start a label Strange Music which stands behind Tech N9ne's tracks until this day.
Since early 2000s, Yates becomes more and more popular and starts his series of collabos in 2006. These track included many guest stars which was a positive boost for the fans of rap and hip-hop as well as a nice addition to Tech N9ne's marketing, attracting additional fanbase to his quality music.
His track vary greatly, including typical lyrics about girls and money, deep words about mental disorders etc. He recently reacted to the weapon scandal, releasing a special track dedicated to that in march. Yates does not plan to retire and he proves that statement with new tracks with a huge amount of quality, as we all here at RankTopTen.com are used to.
What do you think about his performances and music? Would you put him on a same level of rhyme speed as Eminem, or even higher? Share your opinion in the comments below!