Breaking Benjamin
from Greatest Rock Bands of All Time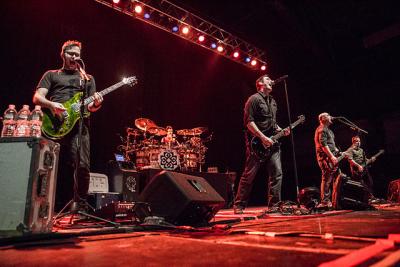 One of the most popular modern rock bands, Breaking Benjamin is a Pennsylvania band that is known for its consistency and hard-rock, alternative metal sound. Formed by Benjamin Burnley in 1999 and getting its name by pure coincidence, originating from a comment of the microphone that Burnley managed to break. There is only one member who has been active since the early beginnings and it's the founding father himself, Ben Burnley.
The group started as two friends performing covers of popular artists in clubs and pubs of Pennsylvania. Burnley was writing songs and music on his free time, but it never saw the world until the 2002. It was the debut album, "Saturate" and the next one after 2 years that made the band popular outside of their state and they commenced a tour with Evanescence. Wide popularity was quick to come as the guys were touring all over the US, releasing multi-platinum singles and albums.
The band postponed their activity in 2011 due to the health condition of Burnley and later trials with the vocalist on one side and two other members on another. Burnley won the case and acquired the right to all products connected with the name Breaking Benjamin and the brand itself and fired the musicians. After recruiting new members, the band continued their tours and recorded new album. Breaking Benjamin now discovers new lands, as they are visiting Ukraine for the first time and generally Europe for the second. This is a true indicator of a loyal fan base around the world due to stability when it comes to the style and music that band adopts.