Green Day
from Greatest Rock Bands of All Time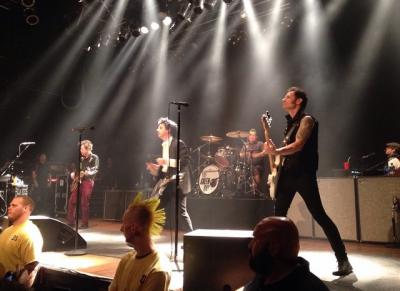 These Oakland kings of punk rock are still kicking it. One of the top modern rock bands, a regular and a wanted visitor of Billboard music charts, Green Day stands out a big time when talking about punk. More than 30 years on stage, these golden oldies know what is good music and we love them for it.
Green Day are on the stage since 1986, when 14-year-old Billie Joe Armstrong assembled his friends into an underground band. Green Day was performing in the clubs and gaining popularity step by step. While the period from the birth of the band and up to 1994 was a moderate success with Billy and company were working their way up the rock ladder, the next two years are a pure breakthrough.
Green Day are signed by Reprise and release Dookie, a total hit, which has skyrocketed band's success, sales, and overall popularity. Guys were on top of commercial summary as their rock machine was going at full speed. After a lengthy period of mediocre success, guys release American Idiot and enjoy a new income of fame, money, and listeners. An album that targeted politics and specifically President Bush simply could not go unnoticed, especially when a good music was backing it up.
Twelve studio albums, Grammy awards, millions of fans, all of the was earned by hard work and sweat on the stage. Green Day still are the kings of punk rock, not listening to anyone and singing about what they please.
Tell us what you think about the music of Green Day and how much are you waiting for the thirteenth album to come out! Share your favorite songs, concerts, lyrics and opinions in the comment box below.