Radiohead
from Greatest Rock Bands of All Time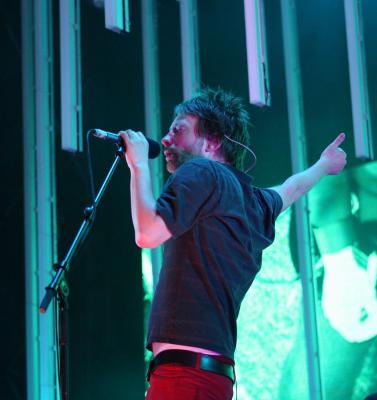 How do you distinguish a representative of top modern rock bands? 30 million album sales should help you out a little bit. These English guys from boys' school showed the world how the real music should be played and became the gods to the music community. The artists themselves mentioned that the influence behind their music was rock, electronica, and even hip-hop. We will have to thank big artists of those styles for inspiring the Radiohead to achieve what they have already and presenting to us some of the best albums in history.
Thom Yorke, the lead vocalist, is the main person behind most of the lyrics and songs and he is the one who created magnificent stories that we still can't get enough of. Releasing "Creep" in 1996 instantly made Radiohead a known band throughout the world and their third album only increased the popularity. This is the band that was quick to gain the fame and never lets it go, unlike many other quick-born stars, known by only one song. Radiohead guys pressed on and kept creating music that got people by their hearts.
Guys have produced 9 albums so far, collaborating with artists, producers, and orchestras. Top quality content is a deserved landmark of Radiohead and the iconic look of the band members. The sound that they manage to extract from their instruments is sometimes beyond comprehension and that is what we love about these Brits.
What do you think about this gem of alternative music? Are you a creep and a weirdo and not afraid to sing about that publically? Let the community know in the comments! We're sure there are millions of those who will gladly share the feeling with you.