Red Hot Chili Peppers
from Greatest Rock Bands of All Time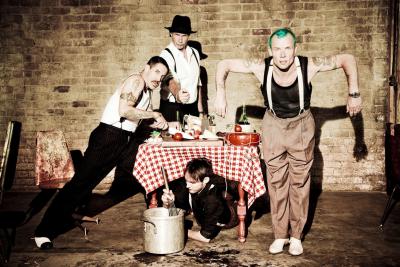 These guys are definitely one of the most popular modern rock bands to take you to the other side. Long prolific career, never ending fame, and hype, original clips, RHCP are the titans of the industry. Operating since 1983, they are gurus of funk rock and never fail in delivering quality content to the listeners. Despite the normal process of aging, the Peppers are not looking like stopping their engines. Improvised live performances get us the feeling of a constant jam and the fun and joy the artist are experiencing are viral, spreading through the audience and filling the concert halls with a distinct energy, only possible for the RHCP.
Like most of the bands, they experienced a change of personnel, rotating the musicians if need be, but absolutely no result in the end quality can be spotted. One of the major blows to the team was the death of Hillel Slovak, aged 28. His drug addiction undermined his health and eventually, his heart stopped beating after an overdose. He hid his addiction from everyone and this was one of the reasons for not getting help in time.
RHCP received the global fame only in the 90s and have not disappeared from the music radars ever since. Producing iconic albums and singles, guys were conquering huge space in their fans' hearts. The band has already left a huge legacy behind them and a whole generation of young adults who were born and raised under their music and artistic performances. Only Californication sold 16 million copies worldwide, let alone the combination of all other albums.
What do you think about the Chili Peppers and how long ago did you hear their first song? All of that and more can be discussed in the comment section for this band, right below.