Three Days Grace
from Greatest Rock Bands of All Time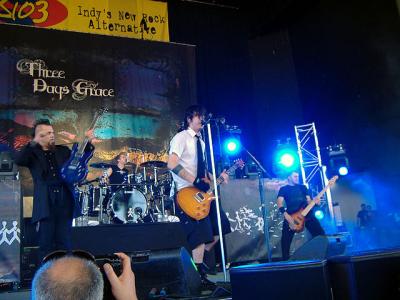 This Ontario-based band is the synonym for alt-rock and is among the best modern bands. Besides the distinct sound, the band is also famous for the previous vocalist Adam Gontier, whose voice was another landmark of a breakthrough in music that these Canadians have managed to pull off.
1997 is the year when Three Days Grace started their existence. First performing on underground stages in Canada, they quickly became famous in limited circles because the new vibes and experiments with a music that already had its laws. Grunge riffs and Gontier's voice made the fans feel that specific tasty crunch. I Hate Everything About You hit the #1 spot in Canada and started a long series of singles that reached that height on charts. Their albums were acknowledged as platinum and double-platinum in some occasions. 3DG, starting as support band for more famous colleagues soon began touring and participating as the headliners of many festivals, along with Skillet and Seether.
2013 was the year of changes for 3DG, as Gontier announced his departure from the band. He has now started new band, named Saint Asonia, and performs separately. Matt Walst became the new lead singer of the band. This change was controversially received by the fans, as most of them miss the distinct voice of Adam and a huge migration of fans was recorded, pointing out that the vocalist is the defining part of any band.
What do you think about the band with the new vocalist? Let us know how you think the band should move on from their previous achievements and make Matt Walst the new idol for the diehard supporters.