Bridgette
from Total Drama Characters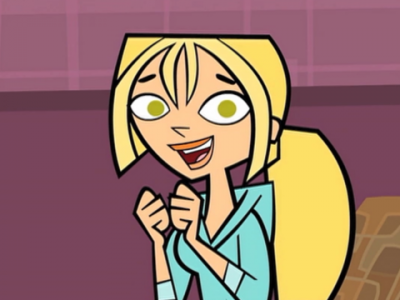 Appearing in three seasons, Bridgette never was among the best Total Drama characters with the 10th position being her highest ever result in the show. She is a vegetarian and loves animals with all of her heart and never forgets that even under a huge pressure of competitions and other characters.
During the course of the show, we easily make sure that she Bridgette is better off in the water than on the mainland. She is a surfer and water is her second home and a passion for the life, along with the animals. She is clumsy on the surface and sometimes that even costs her team a victory, not even mentioning the common irritation and frustration. Bridgette is the peacekeeper for her team and the whole camp on any season of the show she appears. She condemns violence, treachery and using one another to pursue personal goals. She believes that when there is a team, it must be united no matter what and that is the only way to win the whole thing. Her inspirational talks have always helped Bridgette make her team stay together and get out of trouble combining their strength.
She is kind but knows when to get angry yet polite. Bridgette appears as one of the good guys of the show, maintaining the positive balance in the team and being a good and forgiving friend. She can be annoying as well, especially when she makes out with Geoff in public places and supports Owen after declaring her backing of Gwen. But these little things do not change our attitude much towards her.
Voice your amusement or displeasure over Bridgette's character, values, and actions! Use the comment section below and have fun.