Noah
from Total Drama Characters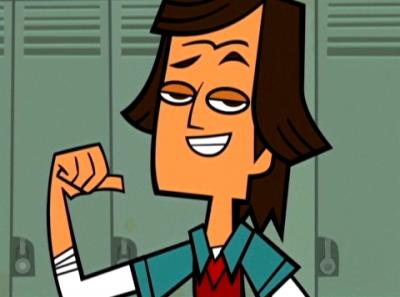 Noah, The Schemer. What more do you need to describe this guy? One of the original Total Drama characters, he kind of fails to make a good first impression on others and the viewers, notifying Chris about a big list of his allergies. Cynical, lazy to participate in the competitions, he makes the situation even worse, setting Screaming Goffers' attitude negatively towards himself.
A true veteran of Total Drama, appearing in 49 episodes, he experiences serious personality changes during the course of the reality show. Many viewers considered him a downright underdog of the series and rightfully so. He passed out during the run and Owen had to carry him to the finish line. However, when it is announced that Goffers are most likely to be victorious in the morning run, he wakes up and cheers with everybody else. Coincidence or carefully planned escape route? Noah proves that he might be lazy, not up for most of the challenges and indifferent to his team, he is certainly not stupid.
He often leaves hidden messages while speaking in his cryptic manner, which is left unnoticed by his teammates most of the time. He gets eliminated a couple of times in a row and becomes annoyed at it, developing a competitive spirit and changing his attitude. Later in the show, he experiences love for the first time in his life. Being fully occupied with love he becomes more dreamy and dives into the imaginary world of his own thoughts.
Noah is one of those characters that slowly makes us change his opinion about him and we grow together as personalities. How do you think, was he underrated all of the time or the negativity was totally deserved?