Dragon Claws
from Best Melee Weapon Runescape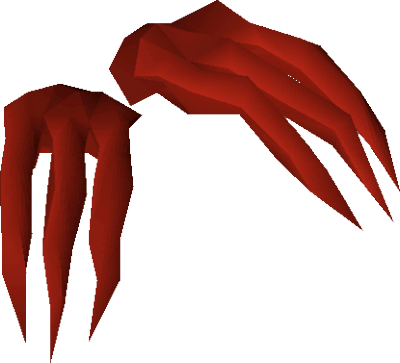 Once called the best weapon in RuneScape by many players for its special attack, which was 4 consecutive strikes for 50% cost of the bar, Dragon claw's popularity and market price was severely reduced by the Evolution of Combat, which brought all weapons to equal terms, removing all special attacks. Today, the special attack is back, receiving a slightly changed mechanic of damage dealing.
This dragon metal weapon requires 60 Attack and you can get it by slaying tormented demons and trading it, either from a player or using Grand Exchange. Only playing or completing While Guthix Sleeps allows you to kill the demons, though you are still able to wield both main and offhand variations of the weapon without even starting the quest. If you decide to purchase it on the Exchange, it will cost you only around 150,000 coins, while at the peak of the special attack popularity back in the day, the price could reach 40,000,000.
If you have managed to raise your Dungeoneering level to 80, you can upgrade the claw with chaotic spikes, turning it into a chaotic type of weapon with specific characteristics, requirements and degrading. Except the aforementioned tormented demons, Motherlode Maw can also drop a claw. Disassembly will present 18 XP to you and a staggering 34% chance of junk, if you decide to take the risk and try to get sharp and swift rare components.
Tell us about your RuneScape experience when using the claw. How was it back in the day and what benefits are there of using in today, after many combat re-balancing and updates? Share your deep experience or the first look on the weapon once you get it in the game!