Eminem
from Fastest Rappers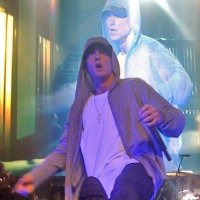 Marshall Bruce Mathers III or simply Eminem is a rapper from Missouri, raised in Detroit. He is often considered to be the fastest rapper of all time, and it is not a coincidence. Riding the waves of popularity since 1999, he never fails to deliver top tracks to match his fans' expectations. 8 full-length albums, song production, movies, it hard to find art industry that Em was not trying to master. His total album sales have hit the 172 million copies mark which makes the guy one of the most selling artists in the world, let alone just the rap industry. Eminem is also the most streamed artist of all times, according to Spotify.
Starting his early steps of a rap artist in Detroit, he faced many problems such as school, drugs and low-paid jobs. He was slowly gaining popularity by performing and winning the freestyle contests between the schools. Later Dr. Dre finds out about his Slim Shady EP and instantly decides that Eminem is the guy to work with. Years of productive cooperation and now everybody knows Marshall as a first person to dominate the rap, often called the "black" industry.
Eminem will get older and release fewer tracks and albums but his legacy will live on.Huge impact on the culture, music and the industry can not be taken away. He will be the guy with phenomenal pronunciation and lyrics speed and deep lyrics, as well as crazy statements and diss songs. And what do you think about Marshall Bruce Mathers III? Post a comment below and let everybody see your opinion.